WOODY

MindSoft Utilities XP 9.8

Adındanda anlaşılacağı gibi Mindsoft bir sistem optimizasyon programıdır. İçerisinde ram optimizesinden internet ayarlarına, registry bakımına, defraga, sistem ayarlarının geri yüklenmesi, silinemeyen dosyaların silinmesi (uninstall), gibi bir çok özelliği mevcut olan, Türkçe'siyle sistem bakım (optimize) programıdır.
Maintaining the optimum efficiency of your PC is not just your priority. Mindsoft Utilities XP is designed entirely for the very same purpose. With 18 high performance utilities, MindSoft provides XP users the unique opportunity to pinpoint the problems plaguing their computers and take remedial measures by themselves, along with some very well equipped help from the Mindsoft Utilities XP.
Analyse and repair your hard disks. Recover so much space in your hard disk that it will look like new. Avoid failures and accelerate your PC in the same way as if you had bought more RAM memory. Use our new ActiveMemory technology to make your system more stable.
Vista RTM Icons




1450 KB

AusLogics BoostSpeed 3.6.9.660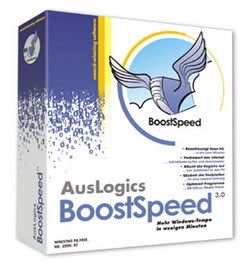 Tanıtım:
AusLogics BoostSpeed hem geniş kapsamlı bir sistem optimize programı hem de dolaylı yoldan bir internet hızlandırıcısıdır. Yazılımın asıl amacı sisteminizi optimize etmek ve bilgisayarınızı temiz tutup ekstra birkaç ayarlada hem internette de hem masaüstünde tam performans sağlamak. Program tam sistem optimizasyonu yapıldıktan sonra oldukça güzel sonuçlar veriyor, mutlaka denenmeli...
Özellikler :

# Çok kısa sürede sistem optimize yapar
# Hataları önler.
# Windows'a bazı ayarları yükler.
# Kütük kayıtlarını(registry) temizler.
# Kütük kayıtlarını(registry) defrag(birleştirme) yapar.
# Başlıkları (banner) önler ve böylece internette maksimum performans sağlar.
# İnternet explorer, Firefox, Opera gibi web tarayıcıları için ekstra performans ayarları yapar.
# Windows' un açılış ve kapanış sürelerini minimum'a indirir.
# Windows' un dahili yazılımları yada daha sonradan sisteme dahil olmuş bazı programlar için optimize desteği sunar.
# İnternet bağlantı ayarlarını da kurcalayarak hızda belirli bir artış yaşanmasını sağlar.
AusLogics BoostSpeed -
the ideal solution to keep your PC running faster, cleaner and error-free. This powerful optimization suite will boost Internet connections, tweak Windows to its peak performance, clean registry and block annoying ads. It's a great way to keep your computer clean and optimized.
• boost speed of your PC
in just a few minutes
• speed up Internet
for faster browsing and downloads
• clean the registry
to make your computer more stable
• clean the disks of your PC
for higher system performance
• boost programs such as
MS Office, Media Player, etc.
Home - http://www.auslogics.com
Size - 3168 KB
iRoll v1.5

In best Retro tradition and with cool 3D-graphics as well as full sound effects are demanded skill and strategic thinking. Roll "iRoll" - the ball over most varied obstacles to the goal and collect you as many points as possible.
You will steer the ball through 60 levels in five worlds, collect valuable Icons and you solve tricky mysteries. Avoid electrical walls, interactive opponents and traps. Bumpers and stoppers will make you realize that the shortest way is not always the easiest or safest.
motorsiklet resimleri:(cool bikes)



13 resim:1600x1200
32 resim:1024x768
toplam :45 resim
9271 KB

Grimm's Hatchery V1.0

Size:20 Mb
Panorado v3.3.1.157

Resimlerinize 360 derecelik boyut kazandırıp kendinizi oradaymış gibi hissetmek istermisiniz? Öyleyse bu program tam size göre, çektiğiniz resimleri birleştirip hareket kazandırarak 360 derece dolaşmanızı sağlıyor
Panorado 3.0 is a comfortable image viewer with special support for panoramic pictures and pictures exceeding the screen size.
This Windows application supports 360-degree viewing in flat and spherical projection mode, an optional Explorer-style navigation bar, thumbnail viewing, full screen mode, slide shows, printing, a tool for creating special projection effects, and a tool for burning picture disks.
Full Drag-and-Drop support for file management.
File formats: JPEG, GIF, BMP, WMF, EMF, ICO, CUR, TGA, PCX, PNG, TIFF, JPEG 2000, PNM, RAS.
Plus Quicktime panoramas (cylindrical or cubic, with JPEG or CVID compression).
EXIF information from digital cameras is available.
> See your panoramic pictures immediately. No IVR files, HTML framework of Quicktime Software required - just ordinary image files (like JPEG)!
> Or create a picture CD/DVD with a self-running slide show!
Home Page:http://www.panorado.com/en/index.htm
Size:1.7 Mb
BlazeDVD Player Professional v6.52

BlazeDvd tam donanımlı ve kullanımı kolay DVD, Video CD, Audio-CD ve medya oynatıcısıdır. Stabil, basit ve tüm isteklerinizi karşılayabilecek kalitededir. Ev DVD oynatıcılarının özelliklerine ek olarak, BlazeDvd daha iyi video ve audio kalitesi sunar. Diğer üstün özellikleri arasında DVD kaydetme, seçilebilir dış görüntü, playback, imaj yakalama ve adresleme bulunmaktadır. DIVX, MPEG4, RM, QuickTime, WMV, WMV-HD, MacroMedia Flash ve diğer populer Internet medya türlerini destekler.
BlazeDVD is a full-featured and easy to use DVD, Video CD, Audio-CD and media file player. It can provide superior video and audio (Dolby) quality, together with other enhanced functions: e.g. recording DVD, optional skins, playback image and DV, image capture and bookmark, etc. Furthermore, it supports DIVX, MPEG4, RM, QuickTime, WMV, WMV-HD, MacroMedia Flash and popular media formats of Internet. BlazeDVD can be extensively compatible with hardware, which is operated stable, smoothly under Windows 9898SE Me 2000 XP system.
http://rapidshare.com/files/29961780/BlazeDVD_Player_Professional_v6.52.rar
URW++ Vector Logo Collection

URW++ Vector Logo Collection
http://rapidshare.com/files/29980253/Girlfriendsparty.part1.zip
http://rapidshare.com/files/29980993/Girlfriendsparty.part2.zip
Joy of the City ( 50 vector ai files )



Joy of the City ( 50 vector ai files )

http://rapidshare.com/files/29983487/Joy_of_the_City.RAR

TEKKEN 3

The saga of the Iron Fist Tournament continues with TEKKEN 3. Fight with or against more than 20 characters, each with unique moves and special full-motion video endings. In addition to the standard Arcade and Versus modes, Namco has added a large number of extra modes like Survival, Ball, Force, Team Battle, Time Attack, Practice, and Theater. Ball mode is similar to game of volleyball, in which the characters must try to keep the ball in the air. Letting the ball hit the ground results in damage to the player when it lands on their side. Force mode has the character fight a series of enemies in a side-scrolling environment rather than the one-on-one fights of the other modes. And Theater mode lets you watch any of the FMV from all three TEKKEN games. Can you defeat the opposition and become King of the Iron Fist Tournament for a third time?
Size - 52 MB